Techno Waxchem Wins EcoVadis Gold!
We are proud to announce that Techno Waxchem Pvt. Ltd. has been awarded the EcoVadis GOLD medal for our sustainability efforts. This recognition places Techno Waxchem amongst the top 5% of all global companies assessed by ECOVADIS in 2023. Our EcoVadis scorecard provides customers with a transparent, unbiased view of the company's dedication to sustainability throughout its business operations.
EcoVadis is one of the world's most comprehensive corporate sustainability rating tools – covering over 200 industries, 175 countries, and more than 100,000 companies worldwide. The EcoVadis sustainability assessment methodology evaluates how well a company has integrated the principles of Sustainability/Corporate Social Responsibility into its business and management systems. The methodology is built on international sustainability standards, including the Global Reporting Initiative, the United Nations Global Compact, and ISO 26000. The Sustainability Scorecard is focused on performance across 21 indicators in four themes: Environment, Labor and Human Rights, Ethics and Sustainable Procurement.
Techno Waxchem started its journey with EcoVadis just two years ago, continuously improving our scores despite the increasingly demanding evaluation criteria.
We resulted in the 96th percentile of the companies operating in our sector and we incremented our score by 9 points, achieving a result of 72/100 : this data makes us proud of the progress made and it encourages us in increasing our efforts both in terms of social and environmental sustainability.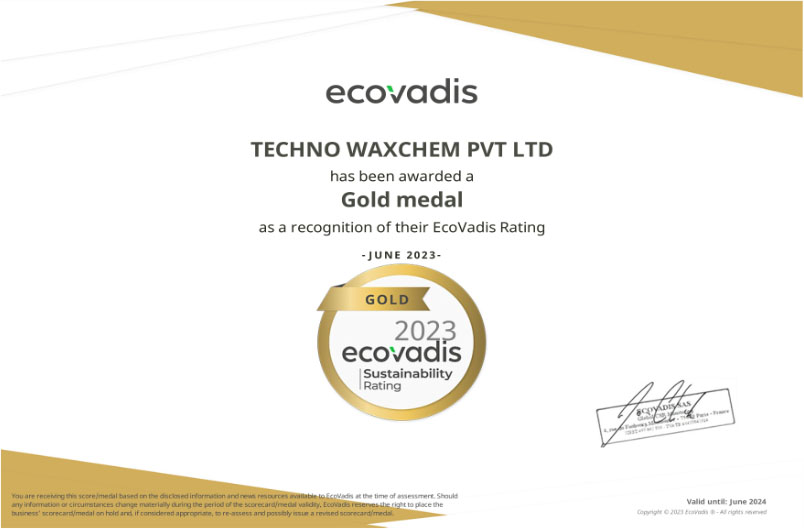 2022 Silver Medal – score 63
2023 Gold Medal – score 72

"Achieving a gold rating from EcoVadis is further proof of our dedication towards long term commitment to sustainability. But sustainability is a never-ending journey, and continuous improvement doesn't happen in an uninterrupted, upward-trending line. An essential part of our sustainability mindset is accepting how important it is to be vigilant about new opportunities to do better, and alert to new risks.
We are proud that the sustainability efforts of all our employees have been recognized with the achievement of the EcoVadis' Gold rating. Of course, we won't be stopping at Gold—there's a Platinum standard to be reached — and a lot of further advancements to be made, day by day to be among top 1% of all global companies", said Mr. Abhishek Agarwal, Techno Waxchem's Chief Executive Officer.
Let us all keep working together towards creating a more sustainable future.